News & Events
The Cable, Wisconsin Area in Northwest Wisconsin is home to world class events and wonderful seasonal festivals. The Brick House Café & Catering is right in the middle of all the fun so be sure to stop by when you're in town! For the latest info on all the fun cooking at The Brick House Café, please check out our Facebook page.
DDD Experience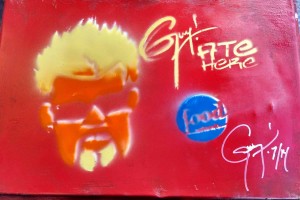 In July of 2014 the Brick House was honored to be featured on The Food Networks top rated show Diners, Drive-Ins & Dives with Guy Fieri.  Here are the most asked questions, (and answers) from our amazing experience!
1) Is Guy Fieri really like that or is it all an act?
What you see is on tv is what you get. He was 100% fun, genuine and hilarious.
2) Is Guy Fieri nice? Or is he a jerk?
He was fantastic.  He is honest, and was as helpful, sweet and friendly as could be. After an entire day of shooting at multiple locations when he was probably tired, he still visited, took pictures and signed autographs for the guests.
3) How did you get chosen for the show?
Guy had spent some time up here vacationing and had visited our friends at the amazing Delta Diner. From that visit he had his team look for other places in the area to feature on the show. I got a call in early May and spoke with a producer spent several hours on the going over our history, menus, recipes and lots more.  There were several follow up calls and e-mails with tons of details. They do not cut any corners on their research!
4) How did you decide what to make?
The research team from the Food Network went over our menus and chose the items they wanted to feature.  We had to submit very detailed recipes and instructions on how to step by step make everything.
5) What was filming like?
We had 2 days of filming.  Almost 18 hours total for about 9 minutes of tv time.  It is so interesting to see what goes in to making a show like this.  There were about 10 people on the crew, producers, assistants, camera & sound operators. They worked like a well-oiled machine.  They were all very nice and helpful and did everything they could to help us feel comfortable and look great!
6) Has it affected your business?
Absolutely!  We have had recognition from all over the world! The show airs in many countries and also is on as a rerun 2-3 times a month.  We have had a great influx of visitors to the area who came after seeing us on TV.  We have seen a nice steady increase of business since the show aired in November of 2014. And every time it airs we get Facebook messages, e-mails and phone calls with kind words, congratulations and recipe requests. We really appreciate all the kind words and support!
7) What is the episode called and how can we see it?
The episode is called  "Meat in the Middle"  it airs on food network occasionally, and can also be purchased on ITunes for .99.   Episode: DV2108H. You can also look it up and the recipes on the Food Network under Diners, Drive-Ins and Dives.
For more information on these and other great events, please visit the Cable Area Chamber of Commerce web site: http://www.cable4fun.com