About
The Brick House Cafe & Catering is located in downtown Cable, Wisconsin in the heart of the Chequamegon National Forest.

The Brick House Café was established in 2005 by Heather Ludzack, a fourth-generation Cable resident. Open year round, The Brick House Cafe offers great coffee, espresso, lattes, mochas, frappes, smoothies, pastries, and desserts as well as Breakfast and Lunch. During the Summer months, enjoy the restaurant's sunny deck and beautiful gardens while you enjoy your meal. Cable, Wisconsin residents and visitors alike come to the Brick House restaurant for its unique, fresh, creative menu items, pastries baked fresh daily, homemade soups and desserts, and outstanding service and hospitality. Check out our menu.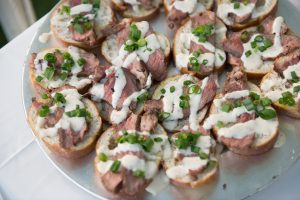 The Brick House Catering is a northwoods staple, specializing in custom catering at your location.
Count on us for your wedding, family, or corporate event at your location in the Cable, Hayward, and surrounding areas. Find out more.

While You're In The Area…
For more info on the Cable, Wisconsin Area visit www.cable4fun.com.